So thankful for this...
Beth sent me this song title in an email today in response to my "
what if's
" email I wrote her as part of a grieving process I'm still going through, telling me that this song is running through her head and so she'll carry it with her into the battleground know as her workplace and that I should do the same along with this:
Because of the LORD's great love we are not consumed, for his compassions never fail. They are new every morning; great is your faithfulness.
The author (possibly the prophet Jeremiah) spent chapter 3
exposing the grief he felt not only for himself but for the
suffering community that he was a part of.
He felt his life was in ruins.
After his lament he says, "yet this I call to mind and
therefore I have hope (v. 21)" that God's love and
compassion is never failing and new every morning.
Great is His faithfulness to us.
No matter the struggles, challenges and obstacles
you have in your life, wake up every morning and
know that each day is a new opportunity to bask
in His love and compassion, like the sun.
No matter your circumstances, His love is there,
never failing, new every morning

.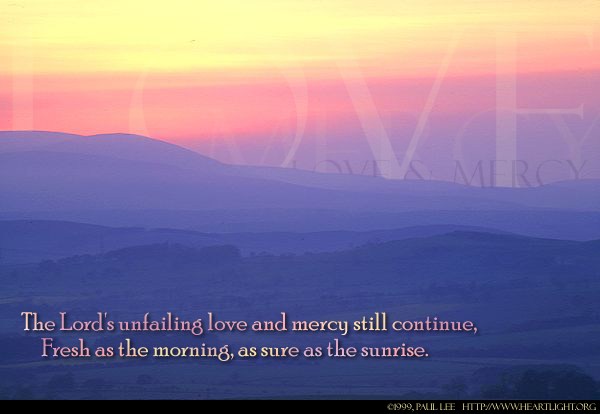 TAKE THIS WITH YOU TODAY into your BATTLE
and KNOW HIS LOVE IS UNFAILING!
HE IS THERE WITH YOU!
CALL OUT TO HIM
or just
SING
"GREAT IS YOUR FAITHFULNESS, O LORD!"