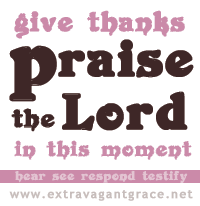 1 Praise the LORD.
Praise God in His sanctuary;
praise him in his mighty heavens.
2 Praise him for his acts of power;
praise him for his surpassing greatness.
3 Praise him with the sounding of the trumpet,
praise him with the harp and lyre,
4 praise him with tambourine and dancing,
praise him with the strings and flute,
5 praise him with the clash of cymbals,
praise him with resounding cymbals.
6 Let everything that has breath praise the LORD.
Praise the LORD.
HE IS AN AWESOME GOD!!!



I have been PRAISING Our Lord since Friday, so since "EVERYTHING that has breath PRAISES the LORD... JOIN eLisa's challenge to PRAISE THE LORD! today
YOU ARE GOOD
ALL
THE
TIME!
and
ALL
THE TIME
YOU ARE GOOD!
PRAISING
HIM
WITH
EVERYTHING
WITHIN
ME
&
EVEN
MY FEET
MY VOICE
MY HANDS
MY TAMBOURINE!

More praise here and here and here on this blog this weekend from songs that just came forth from me, oldies but goodies plus ALL the PRAISE linking up over with eLisa at Extravagant Grace... how 'bout you?
I think I might have chosen another one that stirs my PRAISE even more but
many beautiful choices are being shared already so for another time and another
PRAISE!