7-10 "Because of the sacrifice of the Messiah, His blood poured out on the altar of the Cross, we're a free people—free of penalties and punishments chalked up by all our misdeeds. And not just barely free, either. Abundantly free! He thought of everything, provided for everything we could possibly need, letting us in on the plans he took such delight in making. He set it all out before us in Christ, a long-range plan in which everything would be brought together and summed up in him, everything in deepest heaven, everything on planet earth."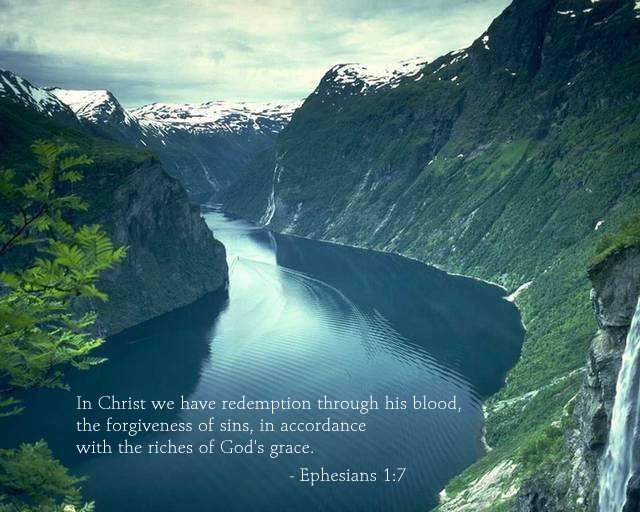 [source:Heartlight.org]
IN
CHRIST
OUR REDEEMER
HIS
BLOOD
FORGIVENESS of SINS
RICHES OF
GOD'S
G
R
A
C
E
flowing...poured out
REDEMPTION
("The restoration of man from the bondage of sin to the liberty of the children of God
through the satisfactions and merits of Christ.")
Our Redemption
COST
GOD
HIS
SON
Our Redemption
COST
JESUS
HIS
LIFE
What will HIS REDEMPTION cost you?

A PRAYER FOR REDEMPTION
"Jesus, I hear You calling me. I feel You loving me. I know about Your ultimate sacrifice for me.I come to You just as I am and with all that I am. My sins violated the Father and I am so sorry. I repent of them and ask Your forgiveness. I love You because You are Love Itself and You loved me first..."
Words to Song: My Redeemer Lives (English, Spanish, ASL) with Nicole Mullen
http://www.youtube.com/watch?v=k1XLgS3boV8
[Photo taken on my way between MX and MN on I40, Groom, TX]
...YES, I know my Redeemer ...
VIVE
"...Come Lord Jesus, live in me as I live in You. I love You.
I will follow You every day of my life, a life without end. Thank you for loving me into Your kingdom! ...

"
~Prayer of Redemption~
the full prayer is in the comments here