WEEK SIXTEEN
The
Name of Jesus
for this week with
Ann Spangler
at
Crosswalk.com

Hope you will join us each Friday through the weekend, sharing from what we read or would like to share about the Name of Jesus for that week (or anytime during that weekend) however you'd like to share and link up here.
The Name


Jesus is not only Lord and Master but the greatest of all friends, who willingly proved his friendship by his death on the cross. By this costly gesture he has won the friendship of millions of men and women from every tongue and tribe and nation. When you pray to Jesus your Friend, you are praying to the One who loved you before you were loveable and who links you together with his many friends throughout the world. ~ Ann Spangler
KEY SCRIPTURE: John 15:13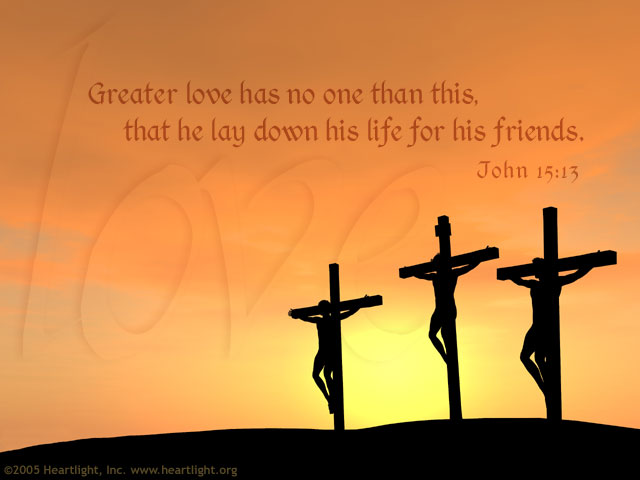 Scriptures
for the rest of this week:
John 15:9 – 16; Romans 5:6 – 11
(T) Proverbs 18:24 and John 21:4 – 7
(W) Proverbs 27:6;
John 11:1 – 44.
(TH) Matthew 11:19; James 4:4 – 10
(F) Proverbs 17:17Proverbs 27:9
Continued Prayer and Praise
(Exodus 33:7 – 11) (Job 29:2 – 6) (Ecclesiastes 4:9 -12) (Matthew 26:47 – 51) (Luke 5:17 – 20) (John 21:4 – 7) (James 2:20 – 24)
Understanding the Name:
The Greek word

philos

(FEE-los) means "friend" or "relative." Occurring twenty-eight times in the New Testament, it is also used to describe the close relationship that exists among believers, related to each other by virtue of their faith in Jesus. This word is related to phileo, the most general term for "to love" in the New Testament, and to the word philema, which means "a kiss." In fact, the early Christians used to greet each other with a holy kiss, signifying their close relationship. ~ Ann Spangler
The word "philos" is also where "phileo" love comes from, meaning brotherly/ sisterly love as compared with "agape" love. Phileo loves leads to agape love.
Phileo

-

means to have an affection (sentiment, passion or feeling) for. A fondness based in the heart. What the Greeks meant by Phileo love is what we normally think of the words "brotherly love" meaning today.

Agape

-

means to choose to seek the best for others. This is a love based in the mind. We can chose to show agape love by actively thinking about, and deciding how we act toward other people. Agape is the word used when the Bible talks about Christian love for one another. Agape love is talking about our behavior towards others, not our feelings.

Phileo love is about feelings. Agape love is about how we act toward others.

Thank Christ today for being the only Friend capable of loving you always. Let His friendship bring joy to your heart.
SEE YOU ON FRIDAY or THIS next WEEKEND, for how Jesus reveals Himself as Your Friend this week...