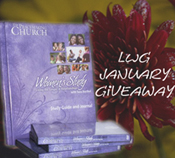 The team at "Laced with Grace" is starting the new year with a wonderful giveaway. This is one that I think we all could use in our day to day lives.
They are offering
Tara Barthel's Peacemaking Church Women's Study: "Living the Gospel in Relationships."


This includes a DVD set as well as study guides filled with peacemaking principles on responding to conflict biblically. I think we could all use this!
Stop by Laced for Grace and see how you can enter to win this wonderful study
.
Beth